Posted By Jacque on November 13, 2010
I have been re-thinking my last post, where I said that Samuel was warm due to being in the wind. Last night, Hannah and Lucy needed GOOT and today, several of us have sore throats. Perhaps Samuel brought something home from the hospital from Isaac's stay.
Needless to say, I was up late, playing nurse, making Cold – Sore Throat Tea, giving drinks from straws, applying cool washcloths, wiping noses, taking to the potty…. and it has continued today. The girls and I did watch a chick-flick last night, tho, so that was fun.
So, we had a lazy day. We rested more than usual for Shabbat. Our living room looks like the hospital room, with several beds made up and children clopped around on the floor. They were up off and on, playing chess, sipping broth and soup, and are currently watching The Black Stallion. It smells like an Italian eatery from the GOOT, and I think everyone will be dozing off soon…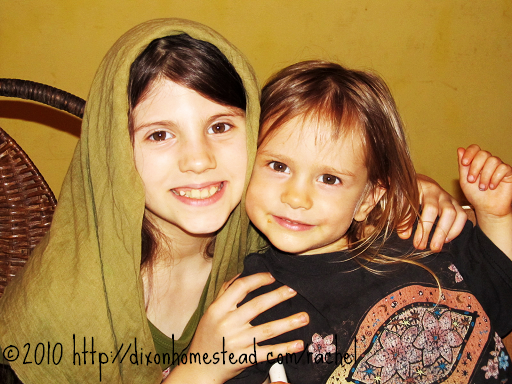 I tried to get some of my Drafts posted, but that was an epic fail today.  The good thing is that it lead me to study the Scriptures for the past few hours. All praise to the Father.
I am going to get myself a fresh-picked grapefruit. We found a tree down the road a few weeks ago, met the owner, and Eric and Hannah and Matt went a couple of days ago and came home with a few dozen. I can't believe there are any left, but I am sure it would do me some good!
May you have a week filled with the Father's Shalom, and may you draw closer to him than you have ever been. May you be continually blessed.
Numbers 6
…bless the people of Isra'el: you are to say to them, 24 'Y'varekh'kha YHVH v'yishmerekha. [May YHVH bless you and keep you.] 25 Ya'er YHVH panav eleikha vichunekka. [May YHVH make his face shine on you and show you his favor.] 26 Yissa YHVH panav eleikha v'yasem l'kha shalom. [May YHVH lift up his face toward you and give you peace.]'
While you're here, click on this link to see Some New Photos at Rachel's blog.
Shalom!
Subscribe to Walking Therein by Email
Thank you for visiting! Please be sure to see my right sidebar and give what you can to the Gleaning the Harvest widowed and single-parent home school families. It only takes a moment and is safe to donate through Paypal.