Posted By Jacque on August 17, 2008
If you missed my post last week at Homeschool Blog Awards, I want to make sure I share it with you.
So I am really behind in the times. I don't know if other moms of large families go through the disconnection issues I had a few years ago with so many ages of children, but when I looked into lapbooking a few years ago, I couldn't figure out how to make a simple unit study lapbook work for a 6 year-old and a senior in high school. I really wanted to give it a try, since we are using the Heart of Wisdom Approach, and I researched and looked at videos, but frankly, my type-a, non-artsy, oldest daughter just was not interested. I didn't realize at the time that she just didn't have to be. It was ok to work on a lapbook with everyone else. I also was missing a few elements of simplicity and importance in the whole lapbooking experience.
In the past few months, I have been reviewing some really awesome lapbooks from Knowledge Box Central, as well as Project Packs from In the Hands of a Child. I mentioned them in the my Simple Woman's Memo Monday. Seeing them all put together and the instructions have really inspired me.
I have been so thrilled to find these awesome sites for free lapbooking resources and videos.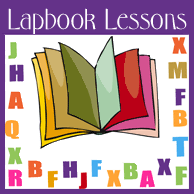 The online community Lapbook Lessons offers you a community of other lapbooking moms and their ideas. It is run by Valerie. She is a Christian Stay at Home Wife and Mother to two little ones. Her children are 5 and 2. Here is more about her: "We are exploring homeschooling as an option for our family, so far we're liking what we see, and we hope to at least keep the children home for the early years. We started using lapbooks as a way to learn some fun Preschool, and Kindergarten skills, and I found them so helpful that I decided to start this site to help others get started using them. I hope that this site will be useful for you as you go about your homeschooling, and if you have any questions or feedback you can email me personally at Valerie@lapbooklessons.com." She also runs the Little Blots of Faith site.
You must be a member of the community to view the pages, but membership is simple and so very worth it, because you will have access to videos, plans, free lapbooks as well as the community itself. I seriously cannot tell you enough how useful and helpful the photos of completed lapbooks and step-by-step how-to's there are on the site!
Another great site for FREE lapbooking resources is Homeschool Share. They have a boat load of Lapbooking Links and Free Lapbooks. I think the majority of them are for younger children, except there is sure to be a larger variety through their awesome links!
SchoolinRHome put a really super-sized lapbook for preschoolers and grade school age children on youtube. It is Preschool Flower Lapbook. She packed so many activities into it, and it is very pretty the way she decorated it.
Caroline Hampton has a video to make a Pretty Petal – Tulip Head – mini-book
RING DESCRIPTION: This ring is for blogs which (at least occasionally) feature lapbooks and/or minibooks used in homeschooling. These blogs have any of the following: pictures of completed lapbooks and minibooks; link lists and bibliographies for research related to lapbooks; ideas, templates, and how-tos for minibooks.
Lapbooking_made_simple Yahoo Group

We are a homeschooling couple who have made Lapbooking our passion and business. We own Knowledge Box Central, at www.knowledgeboxcentral.com. We specialize in lapbooks, copywork notebooks, notebooking pages, activity books, and more!
We wanted to start this forum to learn more about the needs of homeschoolers, allow them to share their ideas, and to share our products and expertise with tme. Our main objective is to prove our motto: "Lapbooking is not a craft! It's an ADVENTURE!"
Feel free to jump in and ask questions. Look at the lapbook pictures and add yours! No advertising, please, including links including affiliate codes. Also, please note that this is a group OWNED by Knowledge Box Central. We do not allow advertisement or open discussion of other products that would be considered "competitive" with our products. We are here to offer support and informaton, as it relates to Knowledge Box Central products. You can check us out at: www.knowledgeboxcentral.com
Lapbooking is one way to present information using folders. We would love this group to enthuse and guide you in creating LAPBOOKS, flapbooks, shutter folders, lap packs, presentation folders. A variation on projects, unit studies and scrapbooking for children. Can be used with pre-school, primary and older children – in schools or with home educating (homeschooling).
The files you will find here are all notebooking and lapbooking templates that I have created to use in our studies. It is my prayer that you will find them to be a blessing to your children as well. I will add more as I am able. Please do not hesitate to contact me if you find a mistake. Sometimes I look at these things so long that I miss the obvious. If you have any questions on how to use a template or notebooking page that you find here, please let me know. As time allows, I will take requests to make templates and/or notebooking pages for a subject you may be working on. Blessings, Jessica
"Lapbooking is the creative and interactive laying out in a folder – of information on a chosen topic or from a unit study. Popular with homeschoolers. This group will provide a forum for lapbooking for grade or year 7 – approx 12 years old and over. "High School" Lapbooks. International group."
Robin Sampson also does Scrapbooking to Learn. She has created a Scrapbooking to Learn Community for moms who use this approach also. View my page on Scrapbooking to Learn
Cindy Rushton is known as the Lapbooking Queen! She has so many resources for lapbooking, and she also has a weekly Talk-a-Latte Online Homeschool Seminars! Here are a few of her links:
An 81-page, downloadable PDF with many, many other links to lapbooking ideas, paper-folding techniques, and other resources.
Needless to say, I am not nearly as confused as I was a couple of years ago! This year, we are going to do lapbooks for the Doorposts studies we have: Plants Grown Up and Polished Cornerstones. We are also going to be using Heart of Wisdom's Biblical Holidays too in a lapbook.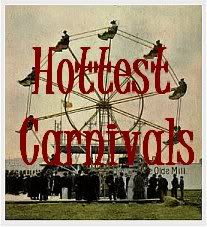 I know many moms I already know are homeschooling with really awesome lapbooks, so, if you are, please leave links to your lapbooking category or videos and pictures!
Don't forget about all of the great carnivals there are for us homeschool moms. Carnivals are a great way to find the links you need for new ideas, keep posted on homeschool news or just think about something in a different way.
BLESSINGS!!!
blessings!
Subscribe to Walking Therein by Email
Similar Articles
Thank you for visiting! Please be sure to see my right sidebar and give what you can to the Gleaning the Harvest widowed and single-parent home school families. It only takes a moment and is safe to donate through Paypal.