Posted By Jacque on October 6, 2009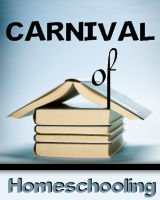 How Did October Get Here So Quickly? All of a sudden school officially started, the leaves started turning orange and red, and the temperatures dropped too cold for and Indiana Fall. I surely don't know how time flies by us so quickly, but I am already longing for warmer temps!
Thankfully, we are expecting some warmer temps this week… just a bit warmer. That is good for us, because we are in the middle of building a Sukkah outside in celebration of the Feast of Sukkot. We are using the Sukkah and all the information surrounding the Feast to home school by what I call Living Learning Moments. Living Learning Moments is just my name for hands-on life-learning. That's how we home school.
HOW Do You Home School?
Tiffany Holley presents More vs. Better posted at As For My House.

Lynn presents Make Homeschooling Fun posted at Eclectic Education – Homeschool Blogger.

Christina presents Homeschooling: You're doing it wrong!!! posted at Lesson Pathways Blog.

Cristina makes a good point when she asks, "When will we learn that less can also be more?" about her article, More than Enough? posted at Home Spun Juggling.
The Teacher here – yours truly, uses a lot of hands-on things to learn from, like building the Sukkah, researching online, and posting things on the blogs for writing and history, etc… What do you have For the Teacher:
My friend, Belinda Letchford, wants to know about your deadlines and plans for 2009. Are you like me and you can't believe 2010 is so near? The End is in Sight posted at Live life with your Kids! – Homeschool Blogger.

Tammy Tammy encourages those of us who have a hard time getting our schedule going in the morning with Start Your Day With A Box!. Check out her ideas for interesting your children as she opens her box at 1Homeschool.

Andrea presents Homeschool 101: Educator discount cards posted at Atlanta Education Homeschool Blog.

Deanna of Frugal Homeschooling Mom is having a giveaway for SpellQuizzer Software Giveaway. See if you can win this awesome software, great for preschool through high school! She said that Laynie's 3 and loving it, and that it will be a much-used program until she graduates. The giveaway ends Friday, October 9th, so be sure to get over and enter.

Janine reminds California Homeschoolers that It's that time of year again: time to submit their private school affidavits! Posted at Why Homeschool.

If you celebrate Halloween, Michelle Sweeney has some Halloween Lesson Plans for you, posted at Always Learning.
We don't do a whole lot in our home school until our Littles are bigger. I have never been good at "lessons" for our pre-school children. I don't mind, because we do so many other things, but What do you do for your Pre-Schoolers:
Rachel M shares their latest home school-preschool lesson, adapted from something she did in high school when she was home schooled. She also thinks it is adaptable with some effort for older grades. Playing with Sponges: 5 Ways posted at quirkymomma.com.

Tristan has a great day plan for moms who home school with Pre-schoolers and Littles! Check out her day and how she does it in Homeschool with 5 Young Children posted at Our Busy Homeschool.

One thing I am going to be writing up is the idea my friend Michelle from Steadfast at Home gave me to make mini Sukkahs out of cookies with frosting and eat them! Sounds messy, contemplative and, well, it involves food! But I know the Littles – and the Middlers – will have a blast! How can you go wrong there? Sorry, this one has not yet been written, but I thought I'd throw that idea out. You'll have to watch for it in the near future!
We use Living Learning Moments for so many of our subjects, but one subject we eventually have to use the old textbooks for is Math Fun
Denise presents Do Your Students Understand Division? posted at Let's play math!.

Devildogwife presents Making Math Review Fun of file folder game for math review, posted at Marine Corps Nomads.
I am one home school teacher who loves to research things on my own and learn as much as our children do. I suppose you might call that Studying:
Lara DeHaven presents all she has learned about Honeybees and what is happening to our world because of it. Great info for your bee-interested student! You will find her at Texas Homesteader.

Book reviews of a couple of books we have read as of late. Amy @ Hope Is the Word presents Read Aloud Thursday::The Helen Keller Edition posted at Hope Is the Word.

Miss Amanda, our almost-20 year-old, shares how we learned about firefighters and her article she wrote for an online magazine in Courage Under Fire posted at The Daily Planet.
A topic I love to learn about and teach to our children, but I have found I would rather stay away from in open discussion for the most part – at least on blogs: Politics
Alasandra of Alasandra's Homeschool Blog wants to know what the problem is with Conservatives who are up in arms about school children singing a song about President Obama. Heheh… I have no comment. Of course, she also mentioned the praise song to Bush and FEMA, which I would be up in arms about. She presents Songs About Presidents.
As you can tell, a huge part of our learning involves the Bible and its many facets we can apply to our lives. We have learned so much in the past year, and I am thankful we have grown in our Faith:
Michelle @ Delightful Learning presents Prepare and Pray Lesson 15: Preparation for Perilous Times, a family preparedness study based off the book Swiss Family Robinson, by Johann Wyss, posted at Delightful Learning.

Kathy presents her review of Apologia's Who is God and How Can I Really Know Him: Homeschool Review posted at Homeschoolbuzz.com Reviews.
Of course, there are the usual topics that well-meaning people present to home schoolers each year (and every year, regardless of how many times it has been adequately addressed…) The good thing is that the longer you teach and the more you experience about home schooling, the less you let the little things bother you, like most common Home School Issues
After all, we don't want any naysayers to come in and interfere with the real learning going on and stretching our children's minds and Creativity:
Terry Holliday presents Sketchbook Ideas For Children posted at My Creativity Blog.
Help your child develop their interest in drawing by asking them to keep a sketchbook. Sketchbooks are a great way to keep track of your child's drawing improvement. Get a list of twenty ideas you can ask your child to draw.

ChristineMM talks about how starting nature study with homeschooling has affected her own curiosity and self-education. Nature Week at The Thinking Mother is posted at The Thinking Mother.
Or interfering with the real-life applications that allow us to give a well-rounded education to our children through the everyday Life- Learning:
Phil shares how their new basement classroom took a lot of work with The Kids In The Basement posted at A Family Runs Through It.

Mrs. White agrees with our philosophy of Living Learning Moments when it comes to passing on The Legacy of Home: How to teach a 2 year old to Clean posted at The Legacy of Home.
Thank you all so very much for taking the time to read through my issue of the carnival. I so appreciated all of the submissions this week. I hope I get time to leave a comment on each post, and I hope you, the reader, have time to look them over.
Have a super week and may your home be blessed and at peace~
We all know what a job it is to teach our children daily, 24 hours a day. One thing we do as a family to support home school families is to present single home school moms at our site, Gleaning the Harvest. If you are able, will you please consider helping these moms out as they stay home to care for and home school their children?
Subscribe to Walking Therein by Email
Be sure to send in your submission for COH #198, which will be hosted on 13 October by Nerd Family. You can easily send your submission in via BLOG CARNIVAL. If you are interested in the Carnival Hosting Schedule, it is posted at WhyHomeschool.
Other Carnival Submissions
These are posts that were sent in that may also be of interest to you. Though they don't have much to do with home schooling in particular, some of them have some good info you might be able to use:
Emily Moser presents 55 Awesome Scholarships for Eco-Minded Students posted at Online Degree.net.
Tracy Beach presents Win $1,000! Enter the DreamBox "Dream Big" Video Contest posted at Math Learning, Fun & Education Blog : Dreambox Learning.
Diane Steward presents 25 Excellent "Dot Gov" Tools to Research Any Online School posted at Online University Data.
Chris presents Distance Learning Colleges and Universities posted at MJJ Party.
Carolyn Friedman presents 50 Things Your Child Should Never Know posted at Nurse Practitioner Schools.
Similar Articles
Thank you for visiting! Please be sure to see my right sidebar and give what you can to the Gleaning the Harvest widowed and single-parent home school families. It only takes a moment and is safe to donate through Paypal.